In Danomics Petrophysics Insights users are guided through a workflow that walks them through a number of modules. These modules are located via a dropdown menu at the top center of the window. The modules are listed in the order in which a user should ideally proceed through a project. However, this order is not strictly enforced and the user can start at any module and can seamlessly move both forward and back through the modules. This help article will focus on the TOC Analysis module.
TOC Analysis Module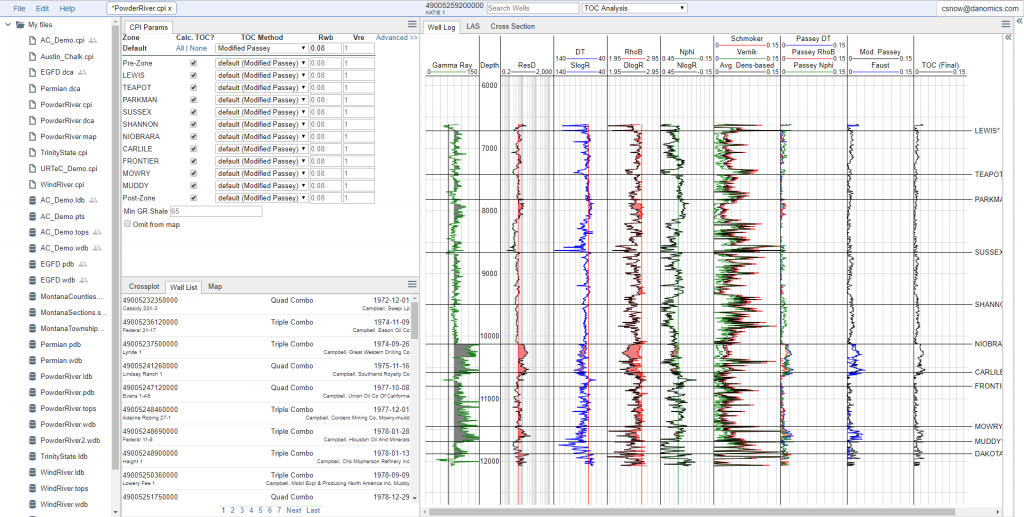 To access the TOC Analysis module, use the module selector dropdown menu located in the top-middle of the page and select "TOC Analysis".
The TOC Analysis module allows users to determine the total organic carbon (TOC) present in an interval. There are several methods available to the user. These include:
Modified Passey
Passey Overlay Methods

Passey Sonic
Passey Density
Passey Neutron

Schmoker
Vernik
Faust
RhoB Avg. Methods
The user has the ability to calculate (or not) TOC for each zone and can elect to not calculate TOC in zones where the gamma ray curve is less than the Min GR Shale parameter. All of the passey methods have options to apply a shifter and a scaler to help match core. Faust also has a calibration factor as well.
Methods, Parameters, and Outputs
| | | |
| --- | --- | --- |
| Method | Parameters | Output Curve Name |
| Final TOC Curve | N/A | toc_final |
| Modified Passey | Rwb; Vre | toc_mod_passey |
| Passey Sonic | ResD Baseline; DT Baseline | toc_slogr |
| Passey Density | ResD Baseline; RhoB Baseline | toc_dlogr |
| Passey Neutron | ResD Baseline; Nphi Baseline | toc_nlogr |
| Schmoker | Schmoker's A; Schmoker's B | toc_schmoker |
| Vernik | RhoB Baseline | toc_vernik |
| Faust | Fm | toc_faust |
| RhoB Avg. | None | toc_combined |
The Final TOC curve will be composited together on a formation-by-formation basis using the selected methodologies. The curve is truncated to be between zero and one.
Modified Passey TOC Analysis
($toc_sf*((log10(@resistivity_final)-log10(@toc_ro)) * 10 ^ (2.297-0.1688*@toc_lom))/100+$toc_so)
where toc_ro is:
$rwno/@phit^2
and where toc_lom is:
(-8.3180734+(53.367852*$vre)-(45.319273*$vre^2)+(13.422786*$vre^3))/
(1+(1.0895416*$vre)-(1.4275785*$vre^2)+(0.54231042*$vre^3))
Passey Sonic TOC Analysis
($toc_sf*(@slogr*10^(0.297-0.1688*@toc_lom))+$toc_so)
where slogr is:
log10(@resistivity_final/$toc_resd_base)+0.02 *(@sonic_final - $toc_dt_base)
Passey Density TOC Analysis
($toc_sf*(@dlogr*10^(0.297-0.1688*@toc_lom))+$toc_so)
where dlogr is:
log10(@resistivity_final/$toc_resd_base)+2.5 *(@density_final - $toc_den_base)
Passey Neutron TOC Analysis
($toc_sf*(@nlogr*10^(0.297-0.1688*@toc_lom))+$toc_so)
where nlogr is:
log10(@resistivity_final/$toc_resd_base)+4.0 *(@neutron_final - $toc_nphi_base)
Schmoker TOC Analysis
(($schm_a/@density_final-$schm_b)*.01)
Vernik TOC Analysis
0.67*(($dens_kerogen*($toc_den_base - @density_final))/(@density_final*($toc_den_base - $dens_kerogen)))
Faust TOC Analysis
($toc_fm * (clamp(((@sonic_final - $dt_matrix) / ($dt_water - $dt_matrix)), 0.0001, $phi_max) - clamp(((@dt_faust - $dt_matrix) / ($dt_water - $dt_matrix)), 0.0001, $phi_max)))
RhoB Avg. Methods TOC Analysis
((((-30.784*@density_final+80.902)*0.01) + ((-17.061*@density_final+46.711)*0.01) + ((-30.28*@density_final+79.94)*0.01) + (((518.0-194.0*@density_final-7.0)/7.3)*0.01) + ((-31.1*@density_final+82.50)*0.01) + ((-29.172*@density_final+77.23)*0.01) + (((156.956/@density_final-58.272))*0.01) + ((-23.0*@density_final+62.1)*0.01) +  ((-26.738*@density_final+70.741)*0.01 ) + ((-42.97115+114.1864/@density_final)*0.01) + ((-26.6694+75.36593/@density_final)*0.01) +  ((-14.9*@density_final+41.11)*0.01))/12)