Geoscience workflows for today's geoscientists
Danomics Geoscience software platform is a cloud-based, mapping package that is powered by the industry's most sophisticated multi-well petrophysical package. Our software gives you the tools you need to generate best-in-class interpretations faster than ever before. Through a combination of built-in data conditioning, guided workflows, and automation you'll quickly be able to generate impactful interpretations whether your working at the basin scale or evaluating infill developments.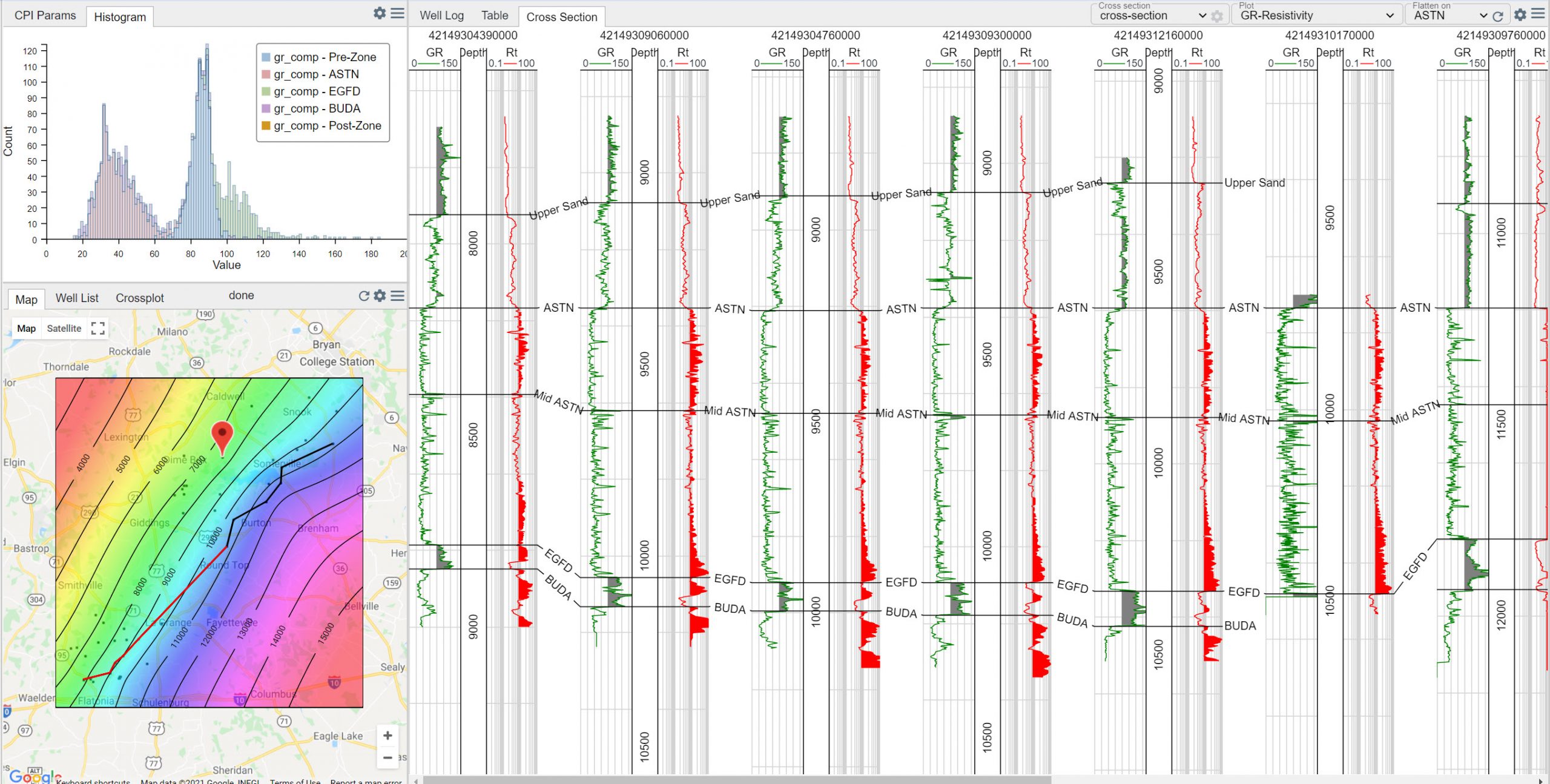 Our platform is designed to scale. Whether it's cross-sections with thousands of wells or leveraging mineral inversion models at the basin scale, Danomics can handle it.
Built-in Data Management
Ever wonder why you have to spend the first several weeks on every project trying to get your data in usable condition? Us too. That's why we've built-out our package to handle all that for you in the background:
Curve Aliasing: We have an alias table (user-customizable) of over 7,500 curve mnemonics
Unit conversions: We check and convert all your curves into the correct units
Curve conversions: We convert curves to the same type (e.g., density porosity to bulk density)
Lithology adjustments: We adjust all your data so that it's in a consistent lithological reference
Log compositing: We scan through all of your logs and composite them together to give you maximum data coverage
The above is done automatically, without the user having to click a single button. We then give you options for one-click curve normalization so you can account for those variations caused by having logs from different generations and tool vendors. And finally, we have curve repair tools that leverage automated machine learning models so that you can move forward with your interpretation knowing that you data truly represents the subsurface properties.
Reservoir-first Interpretations
When you're making maps the most important thing is to make sure that they are of the highest quality. Generic batch processing to calculate properties may have been enough a decade ago, but in today's competitive landscape where every dollar of capital matters, you need to be confident that you're drilling the best wells first – and that means understanding the reservoir better than ever. That's why Danomics Geoscience is built on top of Danomics best-in-class multi-well petrophysics package. No more typing in user equations and hard-wiring parameters for each zone… Danomics has 100s of built-in methods and equations that you can choose from, and let's you set parameters zone-by-zone, well-by-well with drag-and-drop interfaces so you can focus on the science and not the syntax.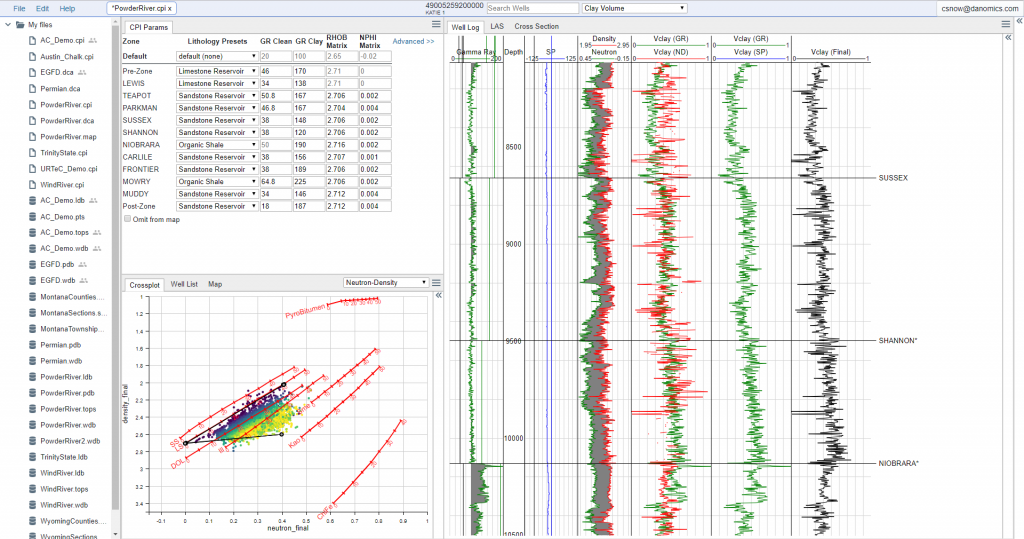 Rapid Results
There's no reason that you should have to wait for hours (or days) while your computer cranks through the computations you need. Danomics leverages the power of the cloud to give you those same calculations in minutes. Our data processing is 50-100x faster than our competitors, which means that you can iterate through the data and converge on the best answer at the speed of business. We don't have anything against glaciers, but your software shouldn't move at glacial pace…
You also shouldn't have to click buttons over and over for basic tasks like generating property grids. Suppose you have 10 zones and 12 properties – in most softwares that would mean running through the mapping dialog 120 times… and if you need to make a change to your interpretation? Well, go do that all again. In Danomics you would set up one Flow and it would generate every property for every zone. And if you need to run it again, you just hit the run button and it's all consistently handled.
Oil & Gas Powered by the Cloud
Danomics' software is cloud-native and delivered entirely through the web browser. You can access your projects, data, and workspace where you are. Why cloud-based?
By leveraging cloud-infrastructure and data centers we can instantly and automatically scale up computing power to handle the largest of projects.
Moving to the cloud means your projects are wherever you are. No more worrying about moving licenses between computers, carrying around security dongles, or performance lag when connecting to remote desktops
Cloud computing eliminates the necessity of purchasing and maintaining high-end workstations. Our software can be run on any device with access to an internet connection.
Cloud is the future of oil and gas and Danomics is leading the way. Contact us at sales@danomics.com for licensing information, to arrange a demo, or to start your free trial.
Have questions? Contact us to learn how Danomics Geoscience software can start powering your subsurface evaluations today.