Danomics Production is a cloud-based decline curve analysis package that automatically forecasts every well in your data set while maintaining the ability to perform granular, well-by-well manual interpretations and rate transient analysis and recovery factor analysis tools. Users can rapidly filter down to the relevant dataset and display or export results. Capabilities include:
Automated and manual DCA forecasts
Multi-segment production forecasting
Multi-well type curve generation
Rate transient analysis for oil and gas
Recovery factor analysis for oil and gas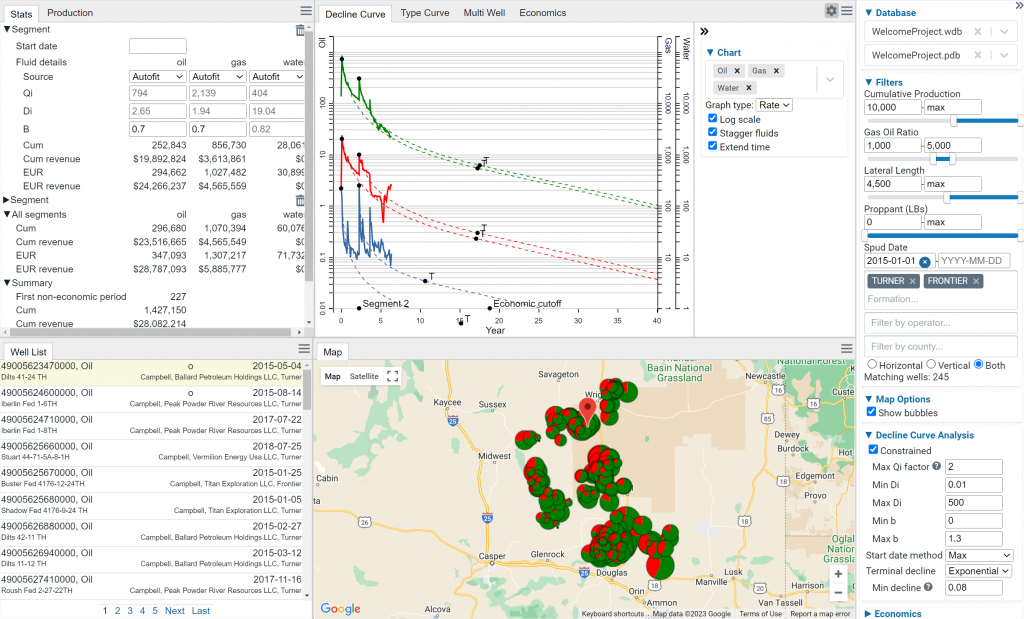 Decline Curve Analysis
Performing decline curve analysis has never been easier. Danomics Production gives you the ability to automatically decline 1000s of wells individually, set global constraints, and rapidly QC results. Tools to help you include:
Rate-time plots
Cumulative-time plots
Cumulative production bubble pie maps
Automatic analysis updates with manual overrides on declines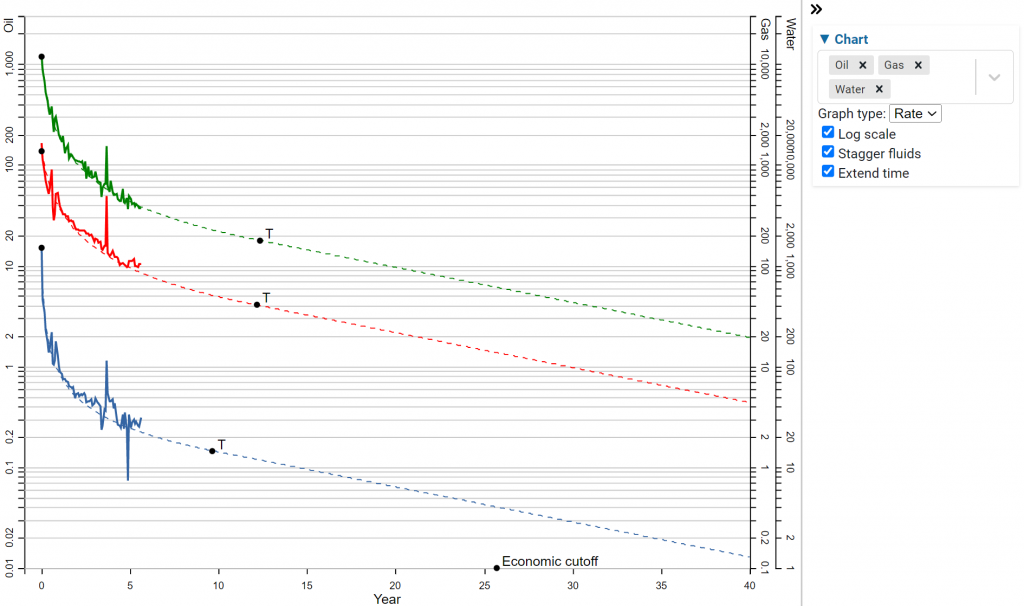 Powerful Production Analysis Features
DCA Express is built with the features you want to get the answers you need.
Type curve tools that allow you to identify and select the relevant well sets and generate declines for each fluid type.
Automatic and manual decline curve analysis for both single-well and multi-well selections that give the user full control to customize their analyses.
Danomics multi-segment Uplift Analyzer lets users evaluate the change in reserves and economics associated with workovers, recompletions, and other operational activity
Mapping tools to visually inspect results and identify areas of over/under-performance.
An integrated economics package that transforms production forecasts to economic results.
Oil & Gas Powered by the Cloud
Danomics' software is cloud-native and delivered entirely through the web browser. You can access your projects, data, and workspace where you are. Why cloud-based?
By leveraging cloud-infrastructure and data centers we can instantly and automatically scale up computing power to handle the largest of projects.
Moving to the cloud means your projects are wherever you are. No more worrying about moving licenses between computers, carrying around security dongles, or performance lag when connecting to remote desktops
Cloud computing eliminates the necessity of purchasing and maintaining high-end workstations. Our software can be run on any device with access to an internet connection.
Cloud is the future of oil and gas and Danomics is leading the way. Contact us at sales@danomics.com for licensing information, to arrange a demo, or to start your free trial.