Decline Curve Analysis software
DCA Express by Danomics is a collaborative, cloud-hosted platform production analysis tool with decline curve analysis and economics-focused workflows allow staff to quickly advance projects from early-stage scoping to prospect level economics.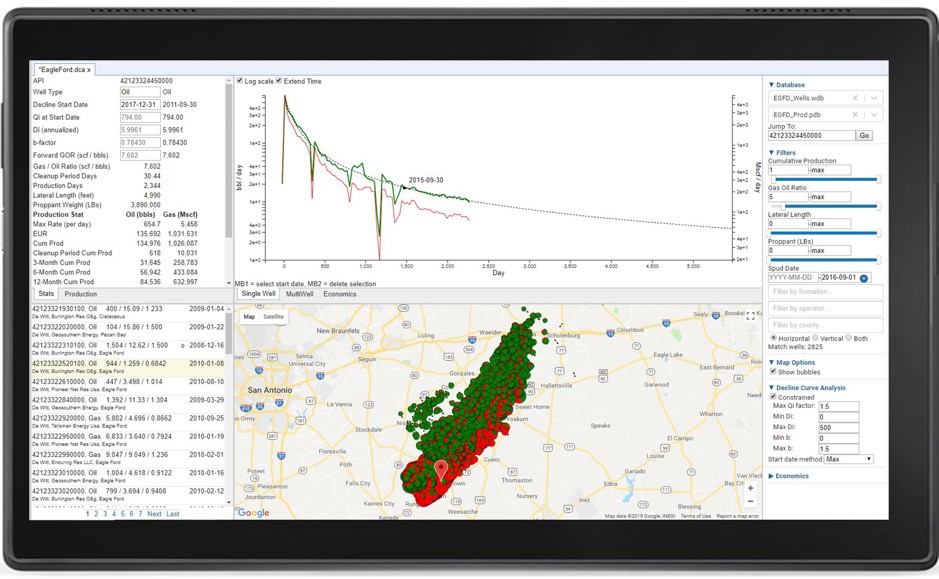 Powerful Production Analysis Features
DCA Express is built with the features you want to get the answers you need.
Type curve tools that allow you to identify and select the relevant well sets and generate declines for each fluid type.
Automatic and manual decline curve analysis for both single-well and multi-well selections that give the user full control to customize their analyses.
Danomics Uplift Analyzer lets users evaluate the change in reserves and economics associated with workovers, recompletions, and other operational activity
Mapping tools to visually inspect results and identify areas of over/under-performance.
An integrated economics package that transforms production forecasts to economic results.
Decline Curve Analysis
Performing decline curve analysis has never been easier. Danomics DCA Express gives you the ability to automatically decline 1000s of wells individually, set global constraints, and rapidly QC results. Tools to help you include:
Rate-time plots
Cumulative-time plots
Cumulative production bubble pie maps
Automatic analysis updates with manual overrides on declines
Economics Analysis
Understanding production forecasts is good – understanding economics is better. That's why our software includes:
Customizable economics parameters for D&C costs, opex, capex, severance taxes, inflation, and commodity price
New well IRRs and NPVs
Forward looking NPVs
For questions or to arrange a demo please contact sales@danomics.com.